SIR CHRISTOPHER LEE is doubtlessly one of the world's most famous and charismatic classical movie stars. He played the villain in hundreds of legendary movies including Gremlins, Star Wars, Sleepy Hollow and Lord Of the Rings and did a famous voice over of King Haggard for the 1982 animated version of The Last Unicorn. He is one of the creative driving forces of our new project. King Haggard, he says, is his favourite role - as close as only possible to Shakespeare's King Lear.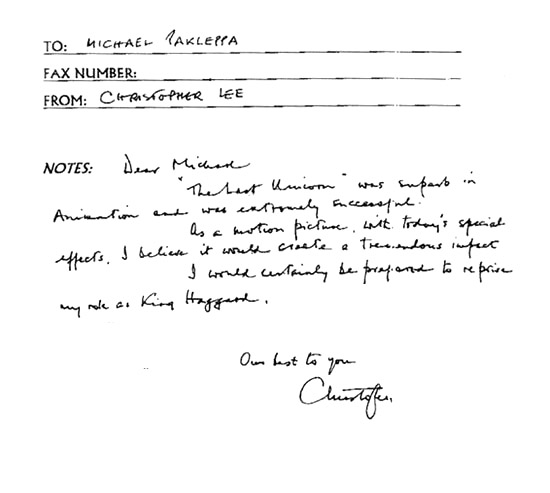 Fax from Christopher Lee:
Dear Michael
"The Last Unicorn" was superb in animation and it was extremely successful. As a motion picture with today's special effects I believe it would create a tremendous impact. I would certainly be prepared to reprise my role as King Haggard.
Our best to you
Christopher
TECHNICAL & CREATIVE
CREATURE DESIGNER

PAULINE FOWLER

is one of the film industry's most famous and creative creature designers and like all our key talents a passionate fan of "The Last Unicorn". She specializes in life-like animatronics, prosthetics and animal suits and worked on hundreds of films including Steven Spielberg, Tim Burton and Francis Ford Coppola, Greystoke Tarzan, Resident Evil, The Witches and Robert de Niro's Frankenstein. Her creatures feel real, they have a soul and emotions and are therefore a key element in the production.

CGI DIRECTOR

JENO UDVARDI

is one of the most imaginative and experienced computer designers and CGI directors. He works in Hungary, often in close association with "Double Negative", London, one of the leaders in CGI. His work contains feature films like "Dinotopia", "Harry Potter" and "Robin Hood" and video game classics like "Exigo". He is famous for his magical fantastic realism.

SCRIPT CONSULTANT / SFX DIRECTOR

GEOFF MURPHY

was the first internationally acclaimed director of the modern New Zealand cinema. He started in the 1970's with cult films like "Goodbye Pork Pie" and "Utu", directed Hollywood blockbusters like "Young Guns II", "Fortress II" and worked as second unit and special effect director in a large list of movies like "XXX –The Next Level" or "Dante's Peak". For Peter Jackson he created (as the only director on set) almost a third of the key scenes of the "Lord Of The Rings" trilogy.

PRODUCER

MICHAEL PAKLEPPA

was one of the pioneers of New German Cinema in the 1970's with 40 years of manifold experience as a producer, writer, director, editor, distributor, marketing and art director in Germany, Austria, Switzerland, France, South Africa, and the UK. As CEO of Filmwelt, one of the leading German independent distributors in the 1980's, he was involved with films by Monty Python, Terry Gilliam, Neil Jordan, Claude Chabrol, Claude Lelouch, Fernando Solanas, Peter Greenaway and many others. He released the 1982 animated version of "The Last Unicorn" with an overwhelming all-media success.